Latest News
April 2019
We need your opinons!
We want to ensure that BucksVision's services are providing the best possible support and opportunities for people with sight loss living in Buckinghamshire and Milton Keynes so we would like to invite you to tell us your opinions in our survey. Your feedback will help us to prioritise what we do and create a better experience for you, and all of our members.
Our survey can be completed online, by post or over the phone. If you would like a paper copy or would like to complete the survey over the phone please contact us on 01296 487 556.
​Thank you for your time, we look forward to reading your feedback.
March 2019
Opening of the National Paralympic Heritage Centre at Stoke Mandeville 
Saturday 30th March 12-6 pm
On Saturday 30th March the new accessible National Paralympic Heritage Centre will be opened at Stoke Mandeville Stadium, the birthplace of the Paralympic Movement.
Telling the story of the Paralympic Movement, the Heritage Centre showcases objects, documents and memorabilia including tickets, medals, sports kit, photographs and programmes that were previously held in storage and not available to the general public. The Heritage Centre also incorporates interactive displays, videos and a handling collection, highlighting sports unique to the Paralympics such as goalball and boccia. 
The Paralympic Movement began in the late 1940s at Stoke Mandeville Hospital where Professor Sir Ludwig Guttmann encouraged wounded veterans to play sport as an aid to rehabilitation from spinal injury. This led to local competitions, to the Stoke Mandeville Games and to the Paralympic Games which today attracts international support and a global broadcast audience of more than 4 billion.
The National Paralympic Heritage Centre will celebrate and explore this unique history. The displays illustrate the determination, sportsmanship and vision that gave the world the Paralympic Games including:
•    The life and work of Professor Sir Ludwig Guttmann.
•    Key milestones in the journey from the 1948 Stoke Mandeville Games
to the present day Paralympic Games.
•    The development of wheelchair sports and technical innovations.
•    Paralympic ceremonies.
This inspirational project would not be possible without the support of the British Paralympic Association, WheelPower - British Wheelchair Sport, Aylesbury Vale District Council and Buckinghamshire County Council. With grant aid from the Heritage Lottery Fund, AIM Biffa Award 'History Makers' Programme, Rothschild Foundation, Aylesbury Vale Community Chest, Heart of Bucks and the Wellcome Trust. The local community, who played an integral part in the establishment of the Paralympic Movement, continue to help by sharing their stories and volunteering as Ambassadors at the National Paralympic Heritage Centre.
BucksVision will be running Goalball Taster Sessions at the Olympic Lodge during the day, at 1pm, 2pm and 3.30pm.
International Women's Day - 8 March 
On this International Women's Day we are celebrating the achievements of ten visually impaired women - read their stories.
February 2019
Our Ballroom Dancing Class in Milton Keynes is creating a buzz!
If you listen to BBC Three Counties Radio, watch ITV News Anglia or read the MK Citizen then you would have heard/seen/read a news story about the Milton Keynes Ballroom Dancing Class. This class is generating a lot of interest thanks to the tireless work of BucksVision volunteer Padma Cheriyan who set up and runs the club. The club is open to all as each visually impaired member requires a sighted partner so if you like to boogie in your kitchen why not join the group and learn some new steps!
To view/read/listen to the information about the club visit the links below:
ITV News Anglia - first broadcast on afternoon of Saturday 2 February
BBC Three Counties Radio - the piece is 2 hours 19 minutes into the Andy Collins show (please note you will have to log in or register (for free) with the BBC to listen)
January 2019
New Staff join the BucksVision Team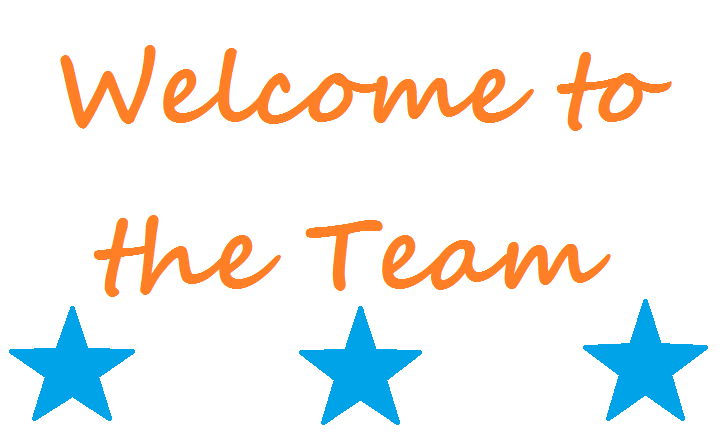 We were delighted to welcome two new staff members to the team today (Monday 7 January): Lynn Hitchcox, Fundraising Manager and Julian Padmore, Eye Clinic Liaison Officer. 
Lynn joins us from The Horse Trust and brings with her a wealth of experience in fundraising and profile raising, including running large scale events. Lynn is really looking forward to getting in stuck into her role and already has numerous ideas on how to help raise our profile (and money)!
Julian is a qualified counsellor and has personal experience of sight loss. He has volunteered with charities such as Mind and Samaritans so he brings great experience of supporting people at difficult times. Julian will be based full time at the Eye Clinic at Stoke Mandeville Hospital and will be available to provide emotional and practical support to patients there and can support patients at eye clinics in Wycombe and Amersham.
We hope you will join us in welcoming Lynn and Julian to the team and wishing them all the best with their roles.
December 2018
BucksVision Trustee wins prestigious award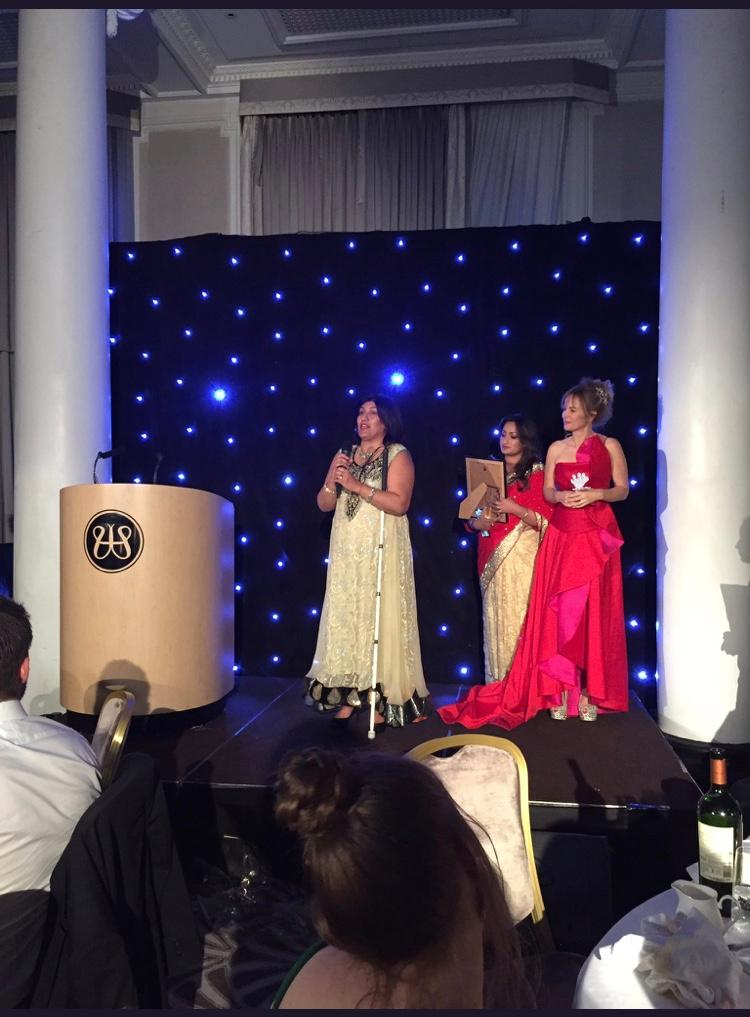 BucksVision Trustee and award winning business woman and entrepreneur, Seema Flower, has won the London 2018 Venus Award for Inspirational Woman of the Year. 
At a ceremony that took place at the Waldorf Hilton on Monday 3rd December, she received the award which gave recognition for all her hard work and achievements over the years in inspiring others and making businesses Disability confident.
Seema, who lives in Stoke Poges, is a Visual Awareness and Disabilities expert and Founder & Managing Director of Blind Ambition. She aims to inspire people to achieve their full potential through her training, coaching and counselling. Seema is registered blind and lost her sight at an early age, but has not let this stop her achieving her goals and dreams by building a successful chain of businesses including ColourNation London Hairdressers and now Blind Ambition.  In addition, she has been involved with various charities raising awareness of some important causes. She often features in the media discussing issues affecting disabled people and entrepreneurial challenges. 
Seema, who is married with a nearly eleven year old daughter said: "I am so happy to receive the London 2018 Venus Award for Inspirational Woman of the Year. I completely understand now why Channel 4 call this the Working Women's Oscars. I would like to thank Tara Howard and her team for doing such an amazing job in giving women this platform and recognition for our achievements.  We need to celebrate our successes and this is the perfect way to do so.  Thank you so much."
Seema keeps herself very busy and is extremely proactive not just running her own business but also as an Ambassador for Target Ovarian charity as her mother sadly passed away nearly 3 years ago from ovarian cancer and raises awareness of how this can affect families and their loved ones. As well as being one of our Directors Seema is also an Ambassador for Retina UK, raising awareness of progressive sight loss and Retina Pigmentosa, the eye condition Seem has. 
Seema says "I have not let my sight loss stop me doing what I want and I do not see obstacles as obstacles, but as opportunities. Having a disability, whether it is being blind, being a wheelchair user or having other physical disabilities, should not hold you back in life or when seeking employment.  I want to inspire people with my story and let them know that having sight loss doesn't have to stop you from doing what you want in life. As they say you need to feel the fear and do it anyway. We can achieve anything we want in life and I hope that I can help many others to believe in themselves and achieve what they want in life. Thank you again London 2018 Venus Awards for recognising the work I do but also inspiring me to help more people." 
 
November 2018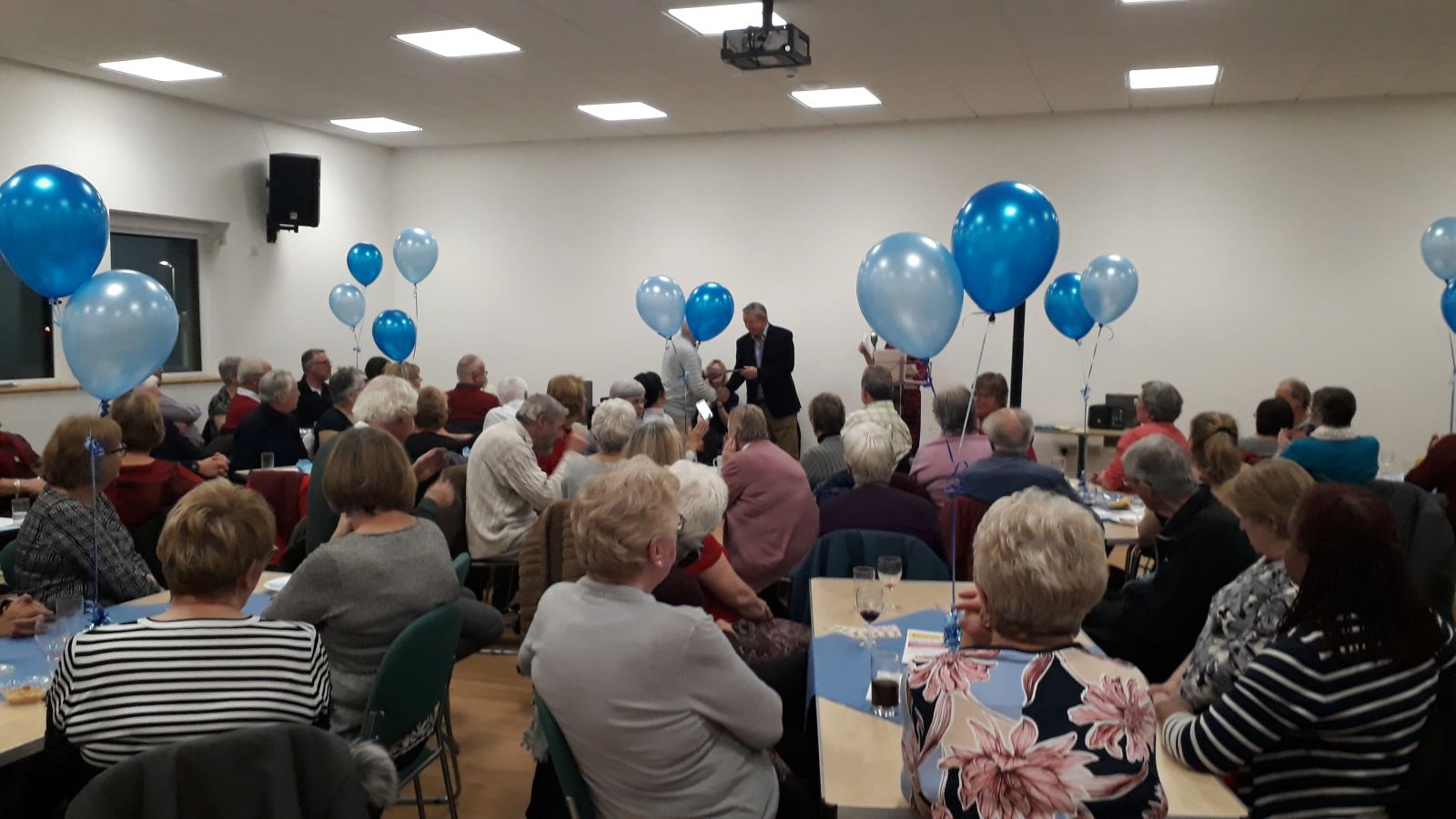 Volunteer Celebration Evening in Milton Keynes
Samantha, Alison, Lisa and Carol from the BucksVision team were delighted to be invited to an evening celebrating our wonderful volunteers in Milton Keynes. About 70 volunteers, members and partners attended the event and got to enjoy the jazz tunes of the 'Fabulous Miss Jones' who provided the entertainment for the evening. It was a chance for all of the volunteers to catch up but also for long service awards to be handed out and for all of the volunteers to be thanked for their time and committment to Milton Keynes activities.
A big thank you to Vanessa who organised the evening.
October 2018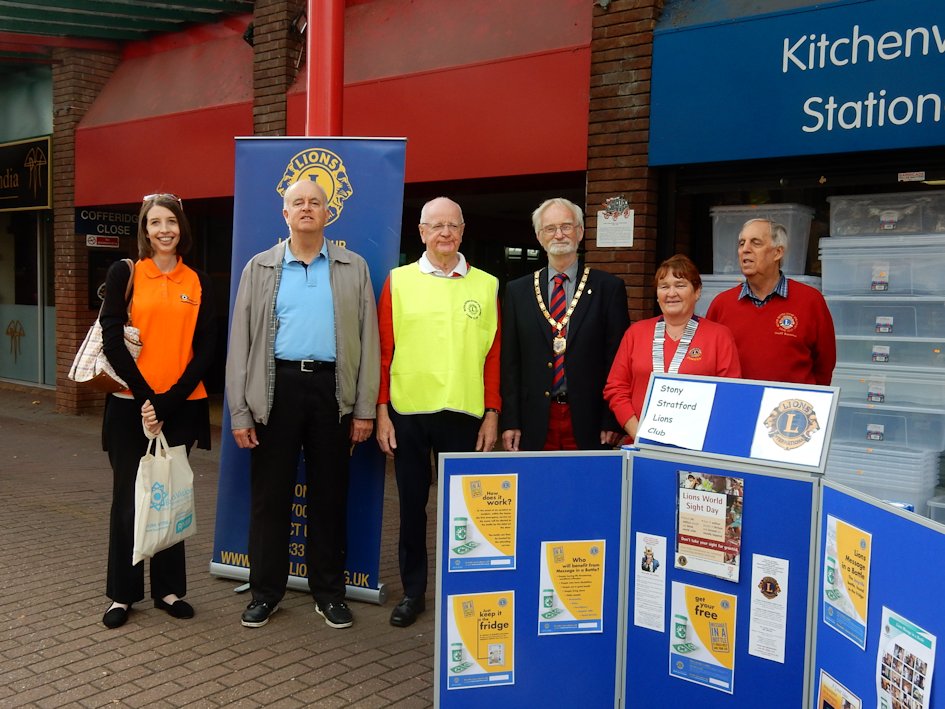 World Sight Day 11 October
World Sight Day is an annual day of awareness to focus global attention on blindness and vision impairment. This year's focus is on eye care which fits in neatly with our previous events during Eye Health Week.
On the day itself we were involved with an awareness raising activity organised by the Lions Club of Milton Keynes (Stony Stratford). Since 1925 when Helen Keller challenged the Lions to become "knights of the blind in the crusade against darkness" they have worked tirelessly to aid the blind and vision impaired. And it was the Lions in the 1920s who created the white cane, widely recognised today as a symbol of vision impairment.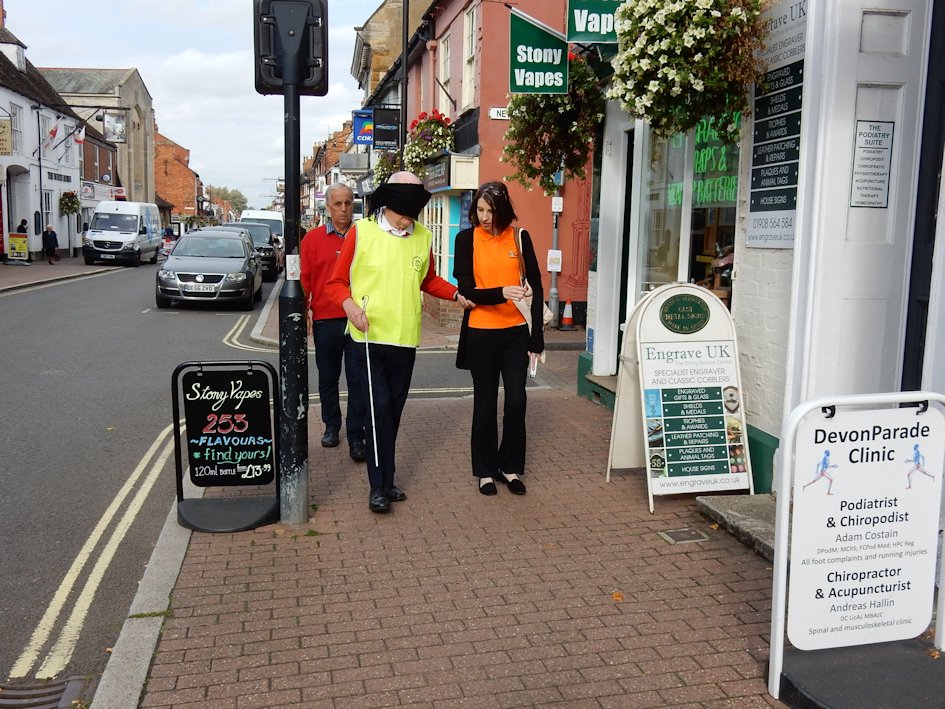 So in order to raise awareness of sight loss the Lions organised a blindfolded walk along Stony Stratford High Street which was undertaken by the Mayor of Milton Keynes, Cllr Martin Petchey and the President of the Lions Club, David Tunney. They were both guided respectively by a volunteer from MK Reader Service and a member of staff from BucksVision. The walk was a revelation to the Mayor and the President who although walking down a street they both knew well, felt very alien and unsure of themselves once blindfolded. The walk highlighted the many hazards encountered by people with sight loss such as maintenance work being undertaken on the pavement, shops/cafes A Boards sitting out on the pavements and crossing busy roads.
In all it was a great event to raise awareness of sight loss and its difficulties as well as encouraging people to look after their own vision. You can see pictures and videos from the event on the Lions website.