Latest News
October 2017
Women Leaders MK 2017 Awards
Long serving RNIB and BucksVision volunteer Padma Cheriyan was recognised for all of the outstanding work she does in Milton Keynes at the Women Leaders MK 2017 Awards on Friday 13th October.
Padma was up against four other nominees for the Voluntary Community Impact award but her outstanding contribution to her local community meant she was announced as the winner of the award. She was also the only one of the fourteen winners during the evening to receive a standing ovation showing just how warranted her award is.
Congratulations Padma!
World Sight Day - 12 October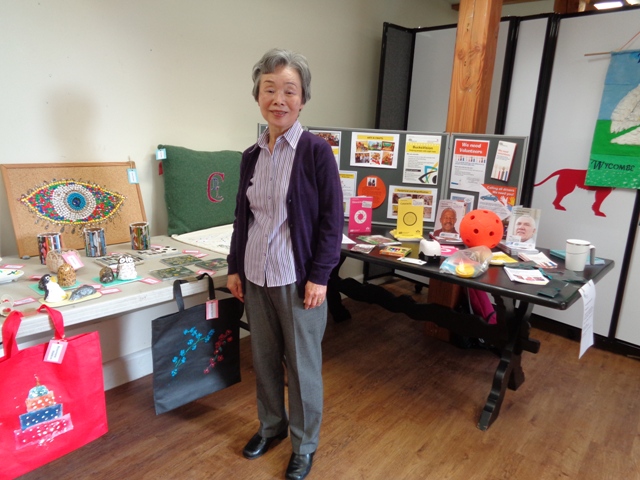 It was World Sight Day on Thursday 12 October and BucksVision's local Wycombe club celebrated with an event at Wycombe Museum. The club had a display of their wonderful craft items as well as information on different types of sight loss. 
Then from 2pm visitors could watch the craft club in action as members and volunteers worked on their creations!
Congratulations and thanks to the wonderful volunteers and members of Wycombe club who organised this event; it was very good fun!
 
15 Daredevil members had fun indoor skydiving
On Wednesday 4th October 15 brave members had a go at Indoor Skydiving. After an induction into what they needed to do with adjustments made for those with less sight (gestures given by touch rather than hand signals) the participants kitted up in flight suits, earplugs, goggles and helmet and made their way up to the tunnel.
Everyone had a two flights in the tunnel, the first was to get used to the sensation so they could relax more on the second. Everyone had an absolutely fantastic time with many eager to receive proof they had flown!
We are very grateful to iFLY in Milton Keynes who not only included photos and videos for participants in our booking but also donated £150 back to us. Our thanks go to iFLY for their generousity and also for all of the support the instructors provided to us, they were all really friendly and supportive!
Who knew paper could be so much fun!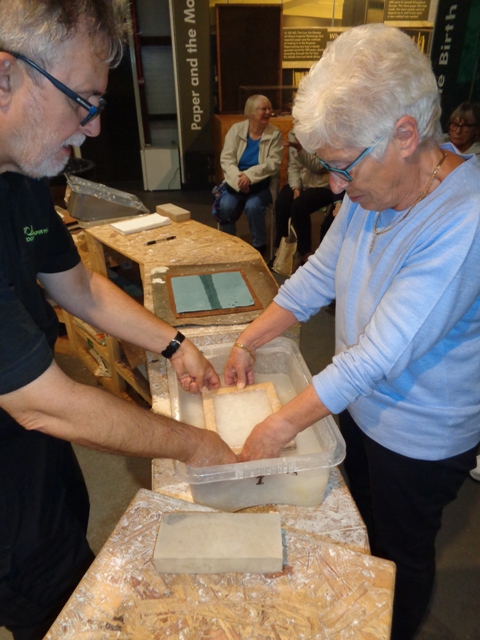 On Monday 2nd October some of BucksVision members visited Frogmore paper mill as part of one of our monthly experience days.
When we arrived at the mill, we were given tea and coffee. After we had finished our tea's and coffee's we were then given a fascinating about the history of the mill and paper making and the different types of paper.
After our talk we were then split into two groups, one group did a boat trip on the canal, the second group did a tour of the mill and were given the opportunity to feel the different types of paper, learn about the machines that are used and even got a chance to have a go at making paper!
BucksVision staff and members would like to say a big thank you to Peter and Paul and everyone for letting us visit and the time that they gave to us.
 
September 2017
Equipment and Information Days - National Eye Health Week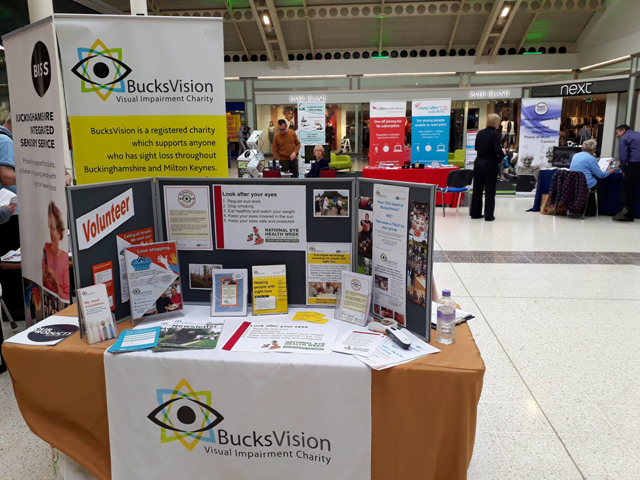 Our equipment and information days, which took place during Eye Health Wee,k were a great success. We had a total of 135 people visit us over the three days and met a number of potential new members and volunteers. On Wednesday we were delighted to welcome the Mayor of Aylesbury, Cllr Tom Hunter-Watts, to our event in Friars Square Shopping Centre. The Mayor tried walking around the exhibitors wearing sim specs before meeting the exhibitors and seeing some of the equipment and technology in action. Many thanks to Sight and Sound Technology for organising our joint Milton Keynes event.
We hope to run similar days next year.
 
Our magical trip to Harry Potter Studios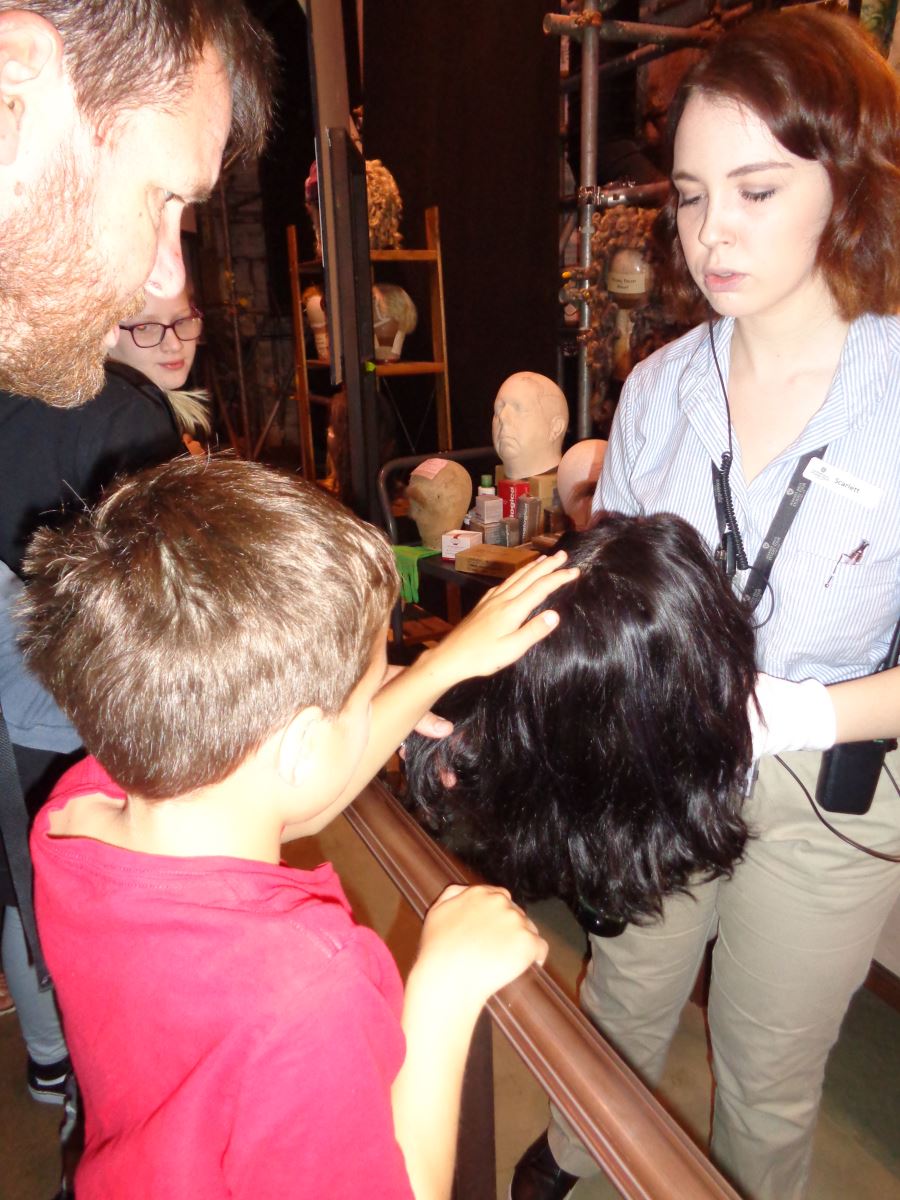 On Saturday 16 September BucksVision staff, Alison and Samantha were joined by children and their families to visit the studios where all eight Harry Potter movies were made.
Despite an early start, we were immediately swept up in the magical atmosphere as we entered Great Hall at Hogwarts. Led by our wonderful interactive guides, Stuart and Scarlett, our visit included some of the most famous film sets.  We walked cautiously through the Forbidden Forest and strolled down Diagon Alley, home to Ollivanders wand shop, where Harry's wand famously chose him.  We flew on broomsticks, and made our own short movie clips on Platform 9¾.
During lunch we had the chance to try a flagon of Butterbeer, and rest our weary feet before we continued with the final part of the tour.
Our day ended in the gift store, where everyone had the chance to purchase a memento of this truly magical day.
Milton's desk by David Reynolds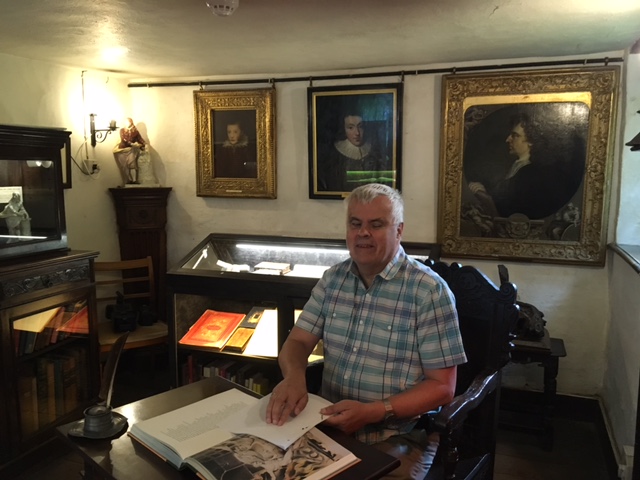 A few weeks ago, our craft group leader casually mentioned that she was planning to go to Milton's Cottage in Chalfont St. Giles to take part in a reading of Milton's Paradise Lost for 350 voices. I was astonished, as I didn't even know this was happening, although I did
know that it was roughly 350 years ago that Paradise Lost was published.
She asked me whether I'd like to go, and better still, actually take part. I jumped at the chance, and started contemplating the similarities and differences between Milton and myself.
Milton's a far better poet than I am.
Milton lost his sight in later life, and was obliged to dictate his writing to his long-suffering daughter. I hate dictating. Many years ago, I remember dictating O and A level papers to various people that I didn't even know.
I know Braille, and Milton didn't even know of its existence. Braille is so important to me, and I'm sorry that many children aren't taught it today, and that the number of Braille teachers is decreasing. Whether Milton would have benefitted from it is debatable. One of the strengths of his work is that it was dictated, and may well have been better as a consequence.
Moving on, I prepared the lines I had to read, embossed them, and rehearsed again and again.
We received a warm welcome on our arrival, and a great fuss was made over the fact that I'd be reading my bit in Braille. I was asked to sit at Milton's desk to read my bit, a proud moment.
The whole thing was very moving, hearing several different voices reading Milton's great work, and as usually happens, the coming together of people from varying walks of life created a feeling of equality and enthusiasm for a great writer, who whilst despairing at his loss of sight, spent the rest of his life giving hope to those who would lose their sight in the future.
A memorable day!