Latest News
March 2018
Office Closure- Friday 2nd March
Unfortunately due to the adverse weather over the last few days we have decided to close the office today, Friday 2nd March. You can still reach us by email, Facebook or Twitter. We will be open as usual on Monday.
February 2018
Little Match Girl Trip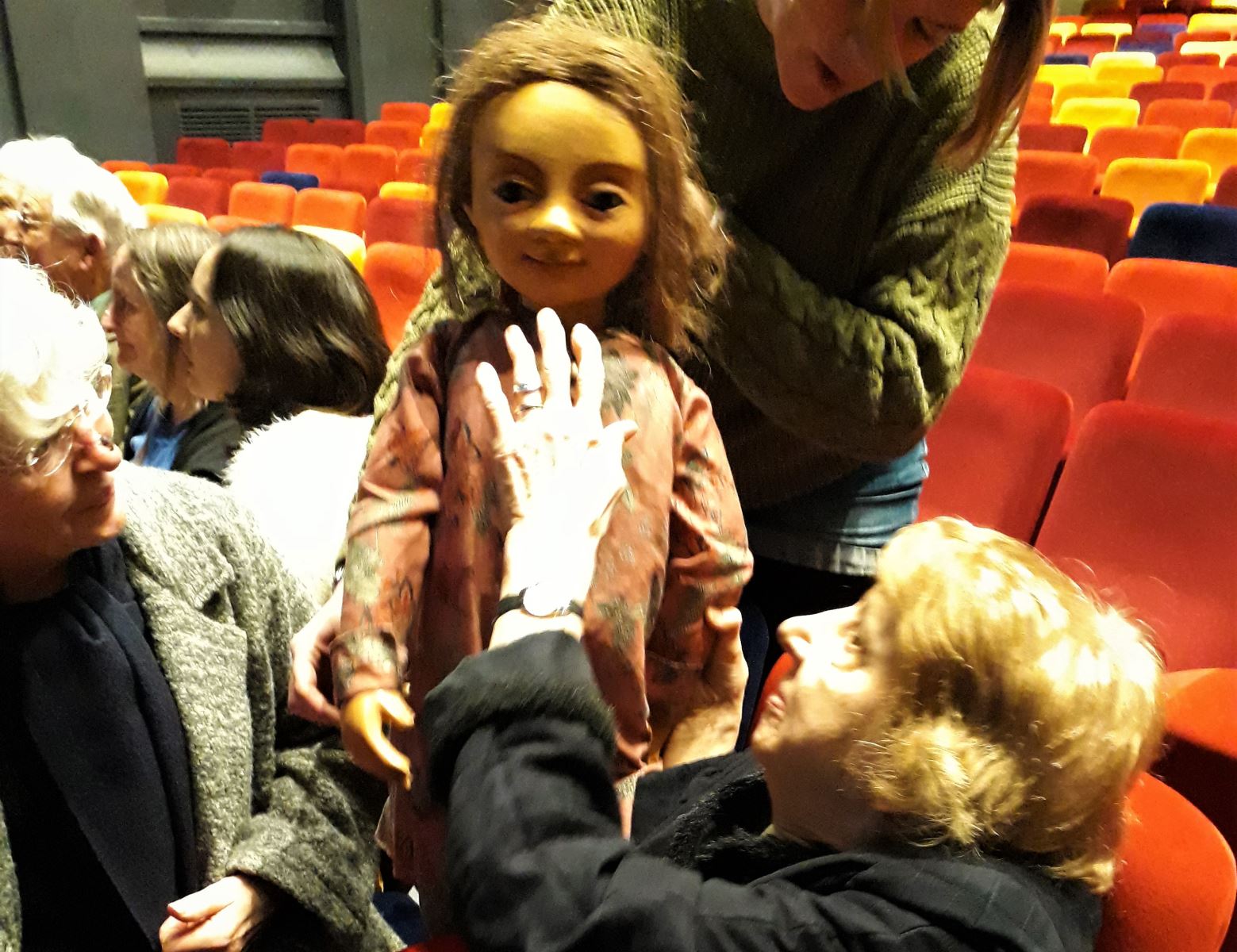 On Saturday 17th February we embarked on a trip to see an audio described performance of the Little March Girl and Other Stories at the Oxford Playhouse. After our pantomime trip was unfortunately cancelled back in December the Oxford Playhouse kindly offered us alternative tickets for this performance. 
We were brilliantly looked after by the Playhouse staff both before and on the day. As our group was so large the Playhouse kindly put on two touch tours for us, during both of the tours our audio describers for th day, Ana and Kerry, described what the play was about while other members of cast passed round props from the play. One of the props included the Little Match Girl puppet. Everyone found the Touch Tours very informative and useful when they came to watch the play. The audio description during the play was fantastic and everyone really enjoyed the performance.
Big thanks must go to Bridget who was our Access Assistant throughout the day and was on hand to help us with any queries we had. We were also helped by Rachel, Trisha and Brenda.
Credit- Set/Costume Designer Vicki Mortimer and Puppet Designer- Lyndie Wright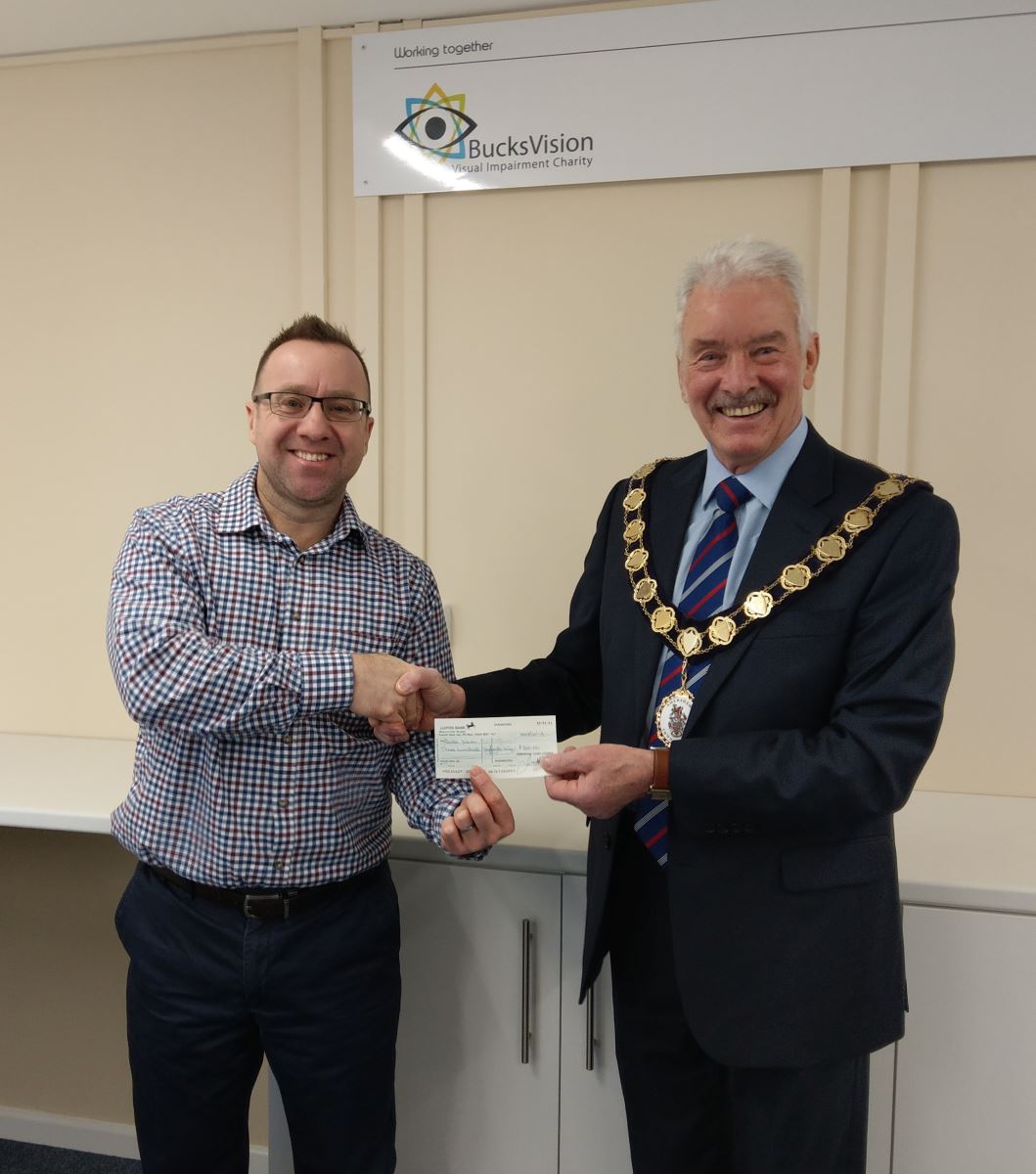 Big thank you to the Mayor of Amersham
Along with Bucks Mind BucksVision was the Mayor of Amersham, Cllr Clive Morgan's, chosen charity to receive a share of the donation collected at the Mayor's Christmas Carol Concert. The amount raised in total was £600 so £300 was donated to each charity.
On Thursday 15th February the Mayor visited our office in Aylesbury to present us with our cheque.
Thank you to Cllr Clive Morgan and Amersham Town Council.
Our Goalball launch was a fantastic success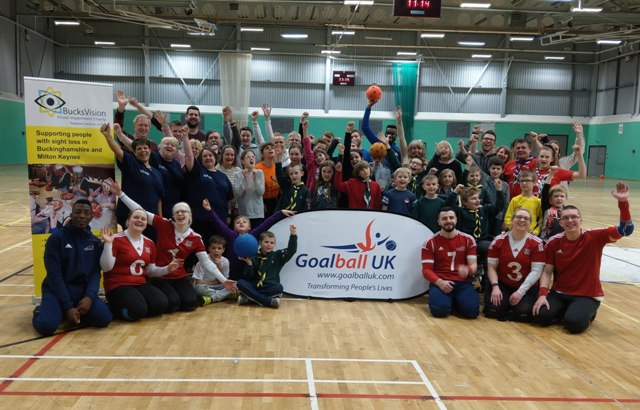 On Saturday 3rd February BucksVision and Goalball UK launched the Paralympic Sport of Goallball at the Birthplace of the Paralympics, Stoke Mandeville Stadium.
A total of 60 people attended, a mix of staff, potential volunteers, parents, cubs and other oragnisations. There was much hype about the day with radio interviews being conducted on Mix 96, BBC Three Counties and Wycombe Sound radio stations, plus the BBC Three Counties radio weekly Treasure Hunt made the launch one of their clues to work out. The day was a fantastic success with everyone trying out Goalball and having a lot of fun!
Our many thanks go to Goalball UK who led and supported the session and to Tesco, Tring Road, Aylesbury  who provided much needed refreshments and support. We are also grateful to Aylesbury Vale District Council for a grant towards the start up costs of the club.
The launch has been featured on various news sites including Bucks Herald, English Federation of Disability Sport and Goalball UK.
Mix 96 interview BucksVision
The BucksVision office was visited by Ben and Nia from Mix 96 Breakfast Show, on Thursday 1 February, to interview both Steve Naylor and Anne Mills about our charity.  All staff were asked to nominate a song, which will be played during the day. You can listen to Steve and Anne's interview Friday morning, 2 February.
The BucksVision team have also been chosen to take part in Mix 96 War of the Works, commencing Monday 5 February.  Each morning at 10:30am, the team will go head to head with The Brain Injury Trust charity, live on air.  We will be challenged to correctly answer 5 general knowledge questions each day, and the team with the highest score at the end of the week will win free pizza!
January 2018
RNIB Connect interview BucksVision 
Anne Mills was interviewed by RNIB Connect about our forthcoming Goalball taster day on Saturday 3rd February.