Latest News
December 2017
Goalball returns to the home of the Paralympics
BucksVision, with support from Goalball UK and Tesco, are bringing Goalball back to Buckinghamshire with a Have a Go session on Saturday 3rd February 2018. Goalball is an inclusive sport for all ages with or without sight.  The game is played with raised markings on the floor, everyone wears blindfolds are used to ensure an even playing field as players locate the ball through the sound of a bell.
The sport was originally developed to rehabilitate soldiers after WWII and is the only team sport invented specifically for the visually impaired. In the past four years alone, participation has increased 425%. Significant funding from Sport England topping £1.5m has allowed for the sport to expand further with the Stoke Mandeville Stadium becoming the latest club location.
Unlike many disability sports, Goalball offers players the opportunity to progress from amateur to professional player in a remarkably short space of time.
Check out our sports and events pages for more information.
Children's Christmas Party - Sunday 3rd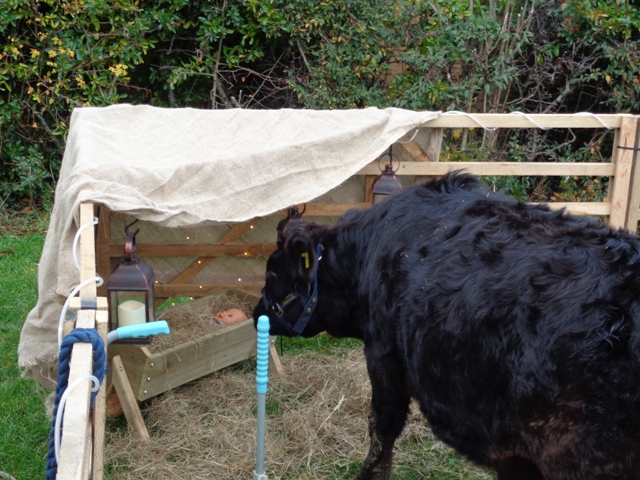 Our Christmas party with VICTA and Sight Concern Beds was a wonderful success. The day started with spread of sandwiches and lots of tasty treats for everyone to enjoy. Once lunch had been eaten the children and their families could visit the Ark Farm Nativity Pen where they could make friends with geese, chickens, dogs, sheep and even a cow! The children also had a choice of creating Christmas decorations for VICTA's competition or participating in party games including musical ice statues, Santa Says and multiple rounds of Pass the Parcel! 
And before they all headed home they all had a chance to go a meet a very special visitor, Father Christmas! Everyone had a lovely time and we all enjoyed the day too.
November 2017
Exciting News about our ECLO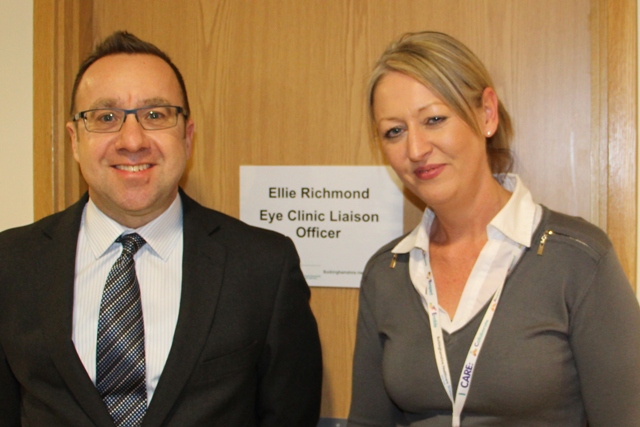 On evening of Wednesday 29th November we held an official launch of our Eye Clinic Liaison Officer post at Stoke Mandeville Hospital. We were joined by BucksVision staff and trustees, other local organisations and Bucks Healthcare Trust staff. It was lovely evening with everyone having chance to find out more about the ECLO postition as well as meeting Ellie Richmond our ECLO. To find out more about the launch visit the Bucks Healthcare website and to find out more about the ECLO post visit our web page.
Picture of Steve Naylor and Ellie Richmond outside Ellie's office, provided by Bucks Healthcare Trust.
Brave South East Member jumps out of a plane!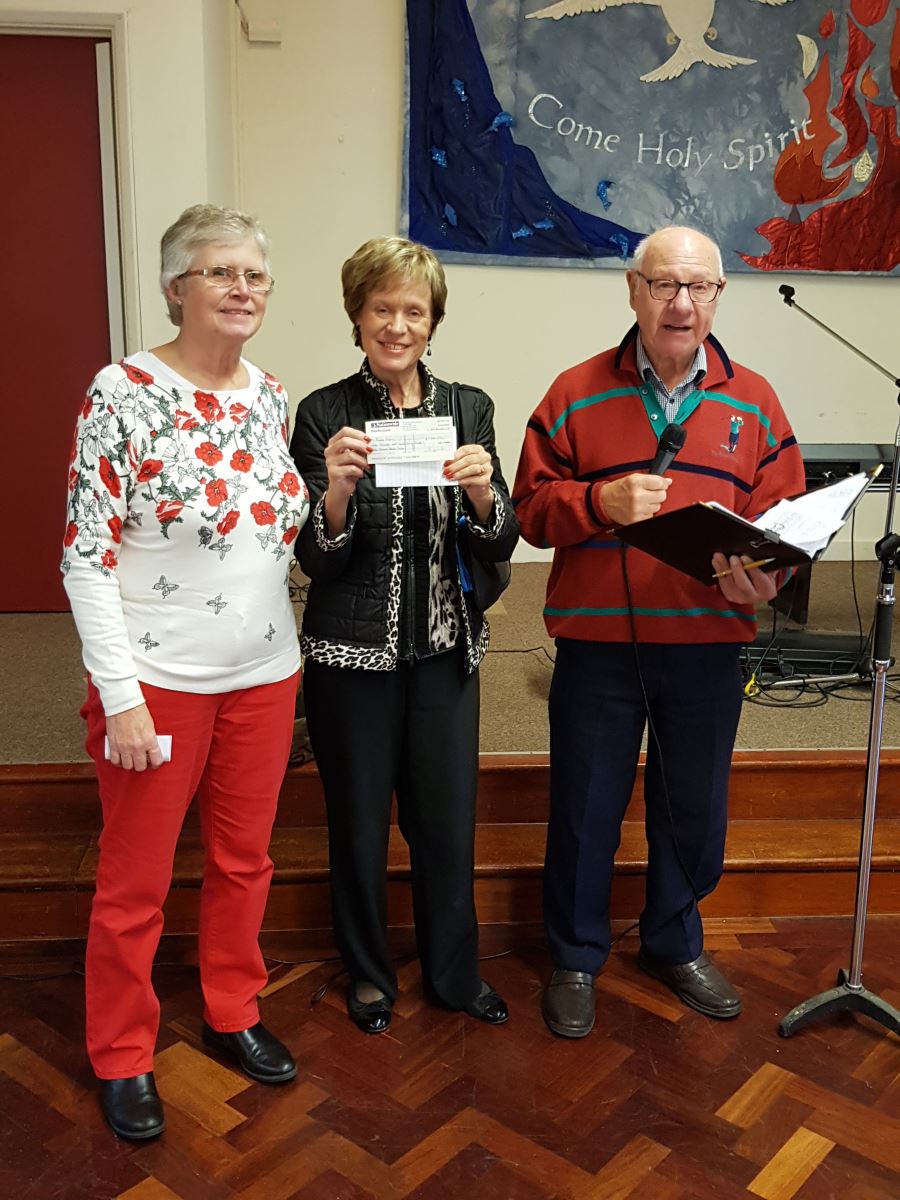 Visually Impaired Stoke Poges resident, Jackie Sprules bravely jumps out of an aeroplane to raise money for two local charities, BucksVision and SportsAble.
In her late 50s Jackie Sprules was affected by a serious condition in her right eye. Despite this sight loss she was able to continue to work and keep up her gardening and handicraft hobbies.  Unfortunately three years later the condition affected her left eye, with a drastic impact on her working and home life. She is now registered as severely sight impaired.  It was at this stage Jackie joined the South East Division of BucksVision where she quickly became a regular member of the three local clubs run by the Division.
From the outset Jackie has been keen to support BucksVision and the local membership.  Her first fund raising event in 2016 was a very successful quiz night at Wexham Golf Club; she repeated the event in 2017 and in total raised of £1142 for the charity.
Emboldened by her success Jackie set herself the personal challenge of a sponsored sky dive.  So on September 23rd this year she jumped out of an aircraft at 13,000 feet at Hinton on the Hedges Airfield near Brackley. Jackie organised all her own sponsorship and pledged equal shares between BucksVision and SportsAble (based in Maidenhead) where Jackie is also a member.
The photo to the right shows Jackie Sprules (left) presenting a cheque for £1028 to BucksVision South East Division Chairman Lynn West at St Andrews Hall in Stoke Poges during the November club meeting. On the right South East Divisional Treasurer Ted Tearle formally thanks Jackie for such a significant donation.  
 
Creative Writing Competition Prize Giving Evening
On 10th November BucksVision held a prize giving evening for entrants in our Creative Writing competition.
Although the judges unfortunately couldn't make it we had a lovely evening of listening to the winning entries and presenting their prizes to them.
We also had a fun time with a literature themed quiz devised by Lisa with the winner, drawn from hat, going home with a minion!
Thank you to all of the entrants and to the judges.
To find out the results visit the Creative Writing Competition page.